White rooms = LOVE
This particular obsession doesn't make a lot of sense to me because I could never achieve it. I add colour to things. I like colour. But more than that, I don't have the discipline to coordinate all my belongings to make it work.
But oh-my-goodness. The people who can have it live in a dreamy world. So crisp. So clean. And the light caused by all the white is simply divine.
And if colour is added it instantly pops – given life by the white.
Bedrooms are beautiful

The hint of cream on the walls warms up the space without contaminating the white. Found on Pinterest.
The blue-grey on the wallpaper and bed really makes this crisp space inviting. I want to go and snuggle on the bed with a book! found on Suivezlamode.
Oh the light. The light. Found on Desire to Inspire.

Okay. There are some other colours here. But it is predominantly white, and WHO wouldn't want an outdoor bedroom on the patio!! It would be so amazing to fall asleep here on a summers evening. Found on Pinterest.

I think painted beams are my new favourite thing. My parents have beam walls in their kitchen. I wonder if they would let me have at'er… Found on skonahem.
Speaking of kitchens (and dining rooms)… Oh how lovely:
The subway tile backsplash add sophistication to this rustic kitchen. Found on Skonahem.
I think food would taste better in this room! Found on Desire to Inspire.
Oh yes, don't forget bathrooms and hallways!
All the natural light here is amazing. Found on Decorpad.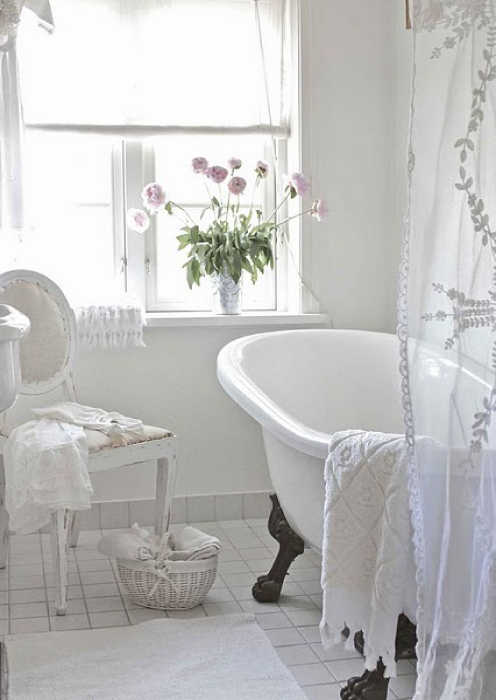 Words fail me o this one. I just want to soak in that tub. All. Day. Long. Found on Pinterest.
Perhaps in another life I can have a white house. Until such time, I shall stare enviously an those who do!

Warning: count(): Parameter must be an array or an object that implements Countable in /home/lovelyde/public_html/wp-includes/class-wp-comment-query.php on line 405